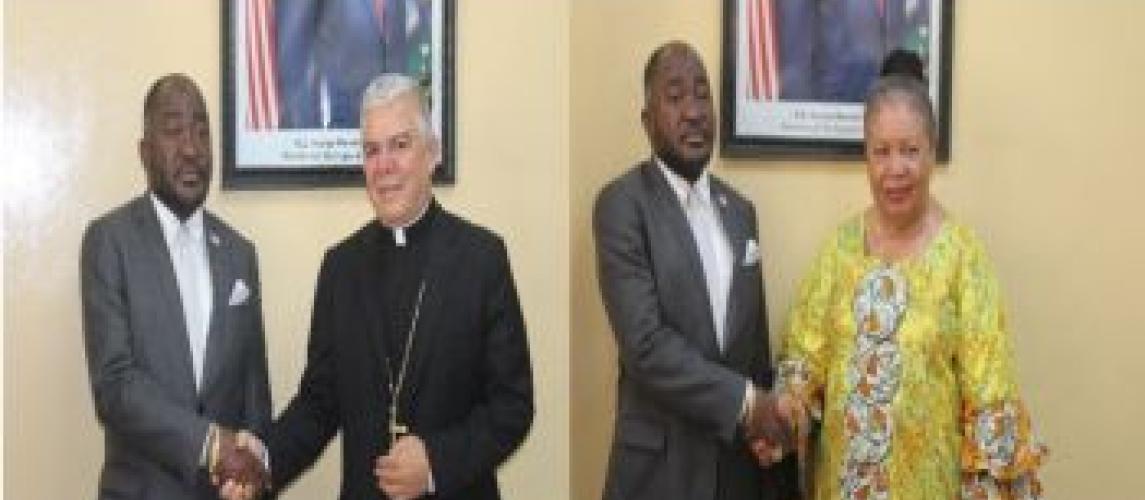 Foreign Minister Kemayah Receives Two Ambassadors-Designate To Liberia
Foreign Minister His Excellency Amb. Dee-Maxwell Saah Kemayah, Sr., on Tuesday, January 17, 2023 received in audience two Ambassadors-Designate to the Republic of Liberia, when the incoming Ambassadors paid Courtesy Call on him at his Foreign Ministry Office on the Capitol Hill, Monrovia.  
The Courtesy Calls by the Ambassadors-Designate come ahead of their separate meetings with His Excellency Dr. George Manneh Weah, President of the Republic of Liberia, aimed at presenting their Letters of Credence to the Liberian leader.  
The Ambassadors-Designate who are expected to present their Letters of Credence to the Liberian President include the Ambassador-Designate Archbishop Walter Erbi, Apostolic Nuncio of Vatican and Her Excellency Marie Helene Okitundu Ayaki Omba of the Democratic Republic of Congo.
The Vatican Envoy then presented a special medal from the Secretary for Relations with States, Archbishop Paul Gallagher of Vatican to Minister Kemayah and pledged his country's willingness to continue its support to Liberia, particularly in the area of health and education among others. 
At a separate ceremony, Minister Kemayah received copies of the Letters of Credence from each of the Ambassador-Designate and congratulated them for their preferment as Ambassadors Extraordinary and Plenipotentiary to the Republic of Liberia.  
Receiving copies of the credential from the Ambassador-Designate of Vatican, Minister Kemayah hailed the cordial bilateral relations between Liberia and the Vatican and assured the Ambassador-Designate of Liberia's determination to strengthen cooperation with the Vatican aimed at enhancing growth and development for Liberia.
The Dean of the Cabinet expressed optimism that the bilateral Cooperation between both countries will be further enhanced during the tenure of Archbishop Walter Erbi as Ambassador here.  
Welcoming the Ambassador-Designate of DR Congo, Foreign Minister Kemayah recounted the historic ties dating back to the 1960s and expressed confidence that Liberia-DR Congo relations will be marked by excellent achievements through bilateral cooperation during the tenure of Her Excellency Marie Helene Okitundu Ayaki Omba.   
Minister Kemayah then assured the Congolese's Ambassador-Designate of his Ministry's willingness to assist the Congolese's Envoy in making her tour of duty in Liberia fruitful and rewarding.   
He said Liberia looks forward to working closely with the incoming Envoy to promote and strengthen bilateral cooperation with the DR Congo, mainly in the area of trade, and proposed a joint cooperation commission between the two countries in order enhance trade and commerce.
Also responding, the Ambassador-Designate of DR Congo assured Liberia of her country's determination to strengthen bilateral ties and Cooperation with Liberia, in many areas of trade aimed at enhancing ties with Liberia.