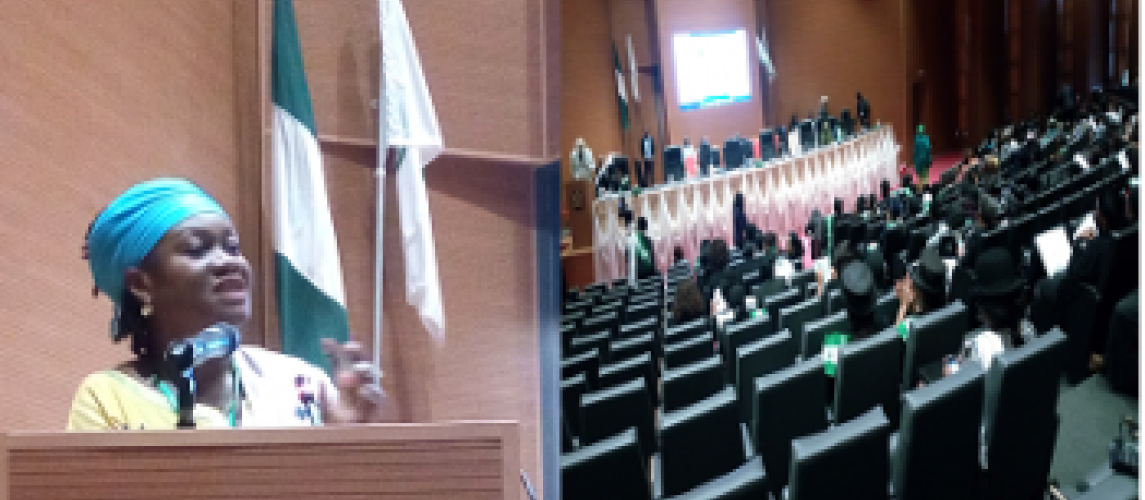 Justice Youh, Three Other Liberian Female Judges End All-Women Regional Conference in Abuja
(Abuja, July 19, 2017):  An-all female Liberian delegation comprising of one associate justice and three judges recently attended the International Association of Women Judges' (IAWJ)'s first West African Sub-Regional Conference.
The all-woman three days international conference which brought together justices and judges from other West African countries took place from the 13th to the 15th of July, 2017 at the National Judicial Institute in Abuja, Nigeria. 
A release from the Liberian Embassy in Abuja names the Liberian delegation as Her Honor Sie-A-Nyene Gyapay Yuoh, Associate Justice of the Supreme Court of Liberia, Her Honor Nancy F. Sammy, Resident Judge, Her Honor Cecelia Grandoe-Rogers, Stipendiary Magistrate and Her Honor Sally Fofanah, Associate Magistrate.
The conference was held under the theme "Forging Ahead Against The Odds: The West African Woman", the release adds.
Serving as one of the discussants on Day Two of the conference, Associate Justice Youh catalogued some of the strides and challenges of the Liberian woman under the topic "Gender Equality, Development and Peace".
For instance, she explained that before now, because Liberian women were dowried or paid for, widows were denied administration to properties of their late husbands. This, according to her, was because the law at the time considered them chattel or properties that resulted into a long line of such cases before the Supreme Court.
Continuing, Justice Youh said, "But that law has also been changed now because of the women of Liberia. Now, women married under the Customary Law can now not only inherit but can also administer the properties of their late husbands."
Talking on Liberian women's participation in the judicial and political landscapes, Justice Youh named to her regional counterparts some of the gains being made against existing challenges in those areas.
"In our Supreme Court, which is the highest court of Liberia, we have five justices—one chief justice and four associate justices. There are two female justices. We have 15 judicial circuit courts, and sadly to say, we have only four female circuit court judges. And in the 15 counties, we only have five female magistrates. But we are pledged on forging ahead, no matter what", Justice Youh, who is one of two female Associate Justices on the Supreme Court, explained.
She noted that Liberia, like many African countries, is still faced with the dilemma of male dominance: "But there's a draft legislation to give women certain percentage upright when it comes to certain positions though we have been met with strict opposition from the male politicians. But we will forge ahead against all odds."
Associate Justice Youh then concluded her remarks with a caution to her colleagues: "I want to say here that as female judges, we derive our responsibilities and other authorities from the law. So let's be careful on what we do here because those issues could or may come out before us for determination or adjudication. Let's continue to strive ahead and use our resources plus, our expertise, to help those women organizations or men organizations who are backing women in their strives to be on par with men."
The IAWJ started in 1988 in the United States of America when the National Association of Women Judges planned its 10th anniversary. Judge Joan Klein, its founder and first president, suggested that they invite women judges from other countries to this annual meeting which was to hold in 1989. Subsequently, an International Outreach Committee was formed and given the role of identifying and inviting women judges from around the world.